KNOXVILLE LATIN MASS COMMUNITY NEWSLETTER
MASS THIS SUNDAY (APRIL 30, 2017)
2nd Sunday after Easter
12:00 noon, Holy Ghost Church, Knoxville
St. Edmund Campion Missal & Hymnal page numbers:
Asperges Rite:   Vidi aquam  (566)
Order of Mass:  Missalette or Campion Missal (569)
Proper Prayers and Readings  (Campion 272 or propers leaflet)
     Kyrie, Gloria, Credo III, Sanctus, Agnus Dei:  Mass I – Lux et erigo (696)
Preface of Easter (Campion 687 or propers leaflet)
Final Marian Antiphon:

  

Regina Caeli

  

(954)
3 pm, St. Therese of 

Lisieux

 Church, Cleveland
MASS NEXT SUNDAY (MAY 7, 2017)
3rd Sunday after Easter
12:00 noon, Holy Ghost Church, Knoxville
3 pm, St. Therese of Lisieux Church, Cleveland
3 pm, St. Mary Church, Johnson City
"GOOD SHEPHERD SUNDAY"
From this Sunday's Gospel (John 10:11-16):
"I am the good Shepherd. The good Shepherd giveth His life for His sheep."
THE EASTER SEQUENCE Victimae Paschale Laudes
AS YOU MAY NEVER HAVE HEARD IT BEFORE
But as the parishioners at St. Agnes Catholic Church in St. Paul (MN) have heard it in beautiful Latin chant every Easter for decades, thanks to its renowned 1969-2002 pastor Msgr. Richard Schuler, giant of sacred music in the U.S. who preserved weekly solemn Latin Mass with Gregorian chant and orchestral musical settings at St. Agnes continuously throughout and following the post-Vatican II disintegration of liturgy and sacred music. In 1976 Monsignor Schuler became the editor of Sacred Music, the official journal of the Church Music Association of America and the oldest church music journal in the United States, a position he held for over 20 years. The journal became his forum for combatting the disastrous direction that church music had taken in the liturgical chaos of the 1960s-70s. He is credited by its current editors and the officers of CMAA for keeping the rich heritage of Catholic sacred music alive and for promoting a sacred and reverent liturgy directed toward God.
For us, as we head into the heart of the seven-week season of Eastertide, it can be spiritually rewarding to reflect again on the doctrinally deep and venerable thousand-year-old Easter sequence Victimae Paschales Laudes that we heard only fleetingly just before the Gospel at our Easter Sunday Mass. First in pure Gregorian chant:
                    <![if !vml]>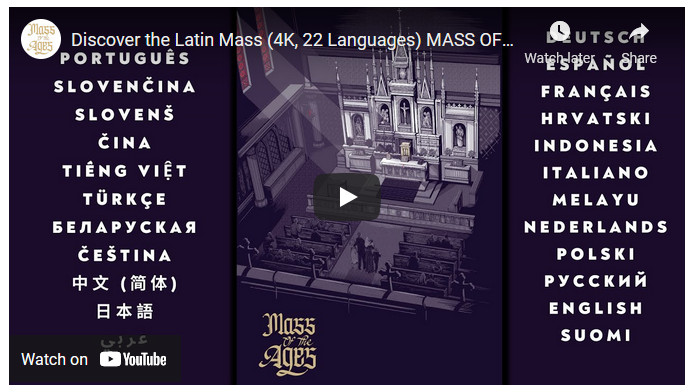 <![endif]>
                    <![if !vml]>
<![endif]>
Click here for a Latin-English copy to view as you follow the chant. Then listen to the following beautiful musical version, with choir and orchestra directed by Msgr. Schuler himself, "as you may never have heard it before":
                    <![if !vml]>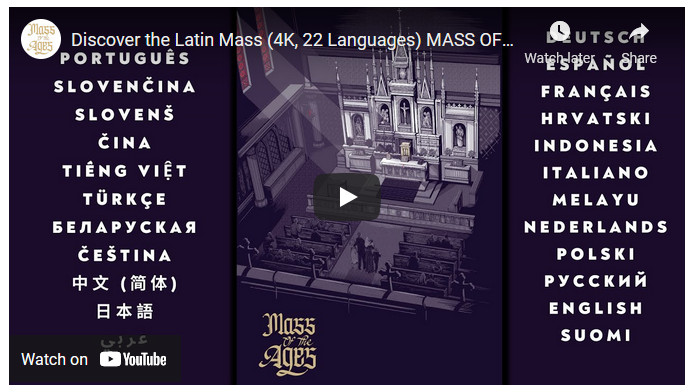 <![endif]>
                    <![if !vml]>
<![endif]>
            (Thanks to Fr. John Zuhlsdorf for both recordings.)
From a flyer announcing Msgr. Schuler's 10th anniversary Mass at St. Agnes Church, where two original members (dating back to its inception in 2005) of our Latin Mass community in Knoxville are now parishioners:

"Latin High Mass had never been discontinued at Saint Agnes in spite of an erroneous interpretation of Vatican II which abolished Latin Masses in favor of Masses in English and congregational singing throughout the United States. To quote Monsignor Schuler, as he wrote about the Mass and the music at Saint Agnes, 'The Council established clearly that music is an integral part (pars integrans) of liturgy; it is liturgy. Two requirements were demanded; music for the liturgy must be sacred and it must be art.' Soon Saint Agnes attracted more and more worshippers who wanted to attend a reverent and solemn Novus Ordo Mass in Latin, with a liturgy graced by Gregorian chant and traditional artistic music. Monsignor Schuler said, 'It is through art that man comes to God. Music, architecture, painting, sculpture…all can be means of grace and prayer provided that they are worthy of the Creator of all art and holy as He is.' There were 18 Chorale Masses with orchestra in the first season along with 4 Masses in Renaissance polyphony. The project from the beginning was funded by the Friends of the Chorale and was never intended to be funded by the parish. The music of the Twin Cities Catholic Chorale and orchestra continues to this day. In 2016-2017, its 43rd season, the Chorale will present 29 Masses for the liturgy at Saint Agnes."

<![if !vml]><![endif]>

Click either photo for more detail.

<![if !vml]><![endif]>
LATIN MASS PHOTO QUIZ
The pictures below show Holy Week Latin Masses at St. John Cantius Church in Chicago and the London Oratory in England, both renowned for the dignity and solemnity of their ad orientem Latin liturgy in both the post-Vatican II (Novus Ordo) ordinary form of the Mass and the ancient pre-Vatican II (Tridentine) extraordinary form.
<![if !vml]>
<![endif]>
Palm Sunday at St. John Cantius Church
<![if !vml]>
<![endif]>
Holy Thursday at the London Oratory (more photos here)
<![if !vml]>
<![endif]>
Easter Vigil at the London Oratory (more photos here)
QUESTION   Do these photos show ordinary form Masses, or are they extraordinary form Masses?
HINT   At both historic churches, the post Vatican-II ordinary form Mass has always continued to be celebrated ad orientem with full ceremony and Gregorian chant, in Latin in full accord with the directions of Vatican II, contrary to false interpretations under which most ordinary form Masses today are celebrated in the vernacular. And mostly with hymns (frequently of dubious quality) replacing the Gregorian chant that the Council directed be retained in the liturgy of the Church, and despite the insistence of popes from Paul VI to Benedict XVI that bishops insure that the faithful learn to sing the ordinary (Gloria, Credo, etc) of the Mass in simple Gregorian chants.
ANSWER   All are photos of Novus Ordo Masses celebrated with reverence and solemnity in full accord with post-Vatican II norms for Mass in the ordinary form. How do your local ordinary form Masses compare?
SUPPORT YOUR LOCAL LATIN MASS
Knoxville Latin Mass Community (KLMC) expenses in support of Latin liturgy typically average several hundred dollars weekly. This includes a regular KLMC contribution of $200 per week to Holy Ghost Church to support the Latin Mass (and specifically our outstanding sacred music program), plus additional expenses (e.g., stipends for visiting priests and special occasions) of several hundred dollars monthly. These expenses are covered solely by donations directly to the KLMC, separate from our individual members' contributions to Holy Ghost Church itself via parish envelopes and cash donations in the 12 pm Sunday Mass collections.
Please use the special addressed Knoxville Latin Mass Community envelopes that can be handed in or mailed to the KLMC (but should be kept separate from and in addition to the regular parish and diocesan offertory envelopes). For additional details or to contribute online, see the "Make a Contribution" page at our community web site www.KnoxLatinMass.net.
ONLINE WEEKLY LATIN MASS NEWSLETTER
To receive a weekly notice of the Latin Mass newsletter when it is posted (here) at the KLMC web site . . . Just send your name and e-mail address to h.edwards@mindspring.com  or write them on a Knoxville Latin Mass Community envelope and leave it on a missalette table after Mass. The posted e-mail version has live internet links, and usually includes photos or other additional content that doesn't fit in the printed version.